Yes2dotAfrica Campaign successful at ICANN 40 in San Francisco, CA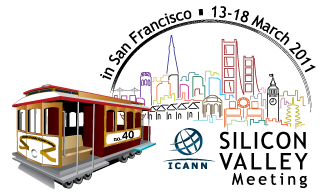 ICANN 40 San Francisco, CA: Home to DCA, where ".africa" was first initiated as an African Diaspora project, new gTLDs were in everyone's mind at this Silicon Valley meeting.
DCA and its delegation from Africa and the US observed as ICANN made a successful progress with the GAC- Government Advisory Group and hard issues on the table.
It was yet another historic meeting for ICANN societies, with more than1700 attendees and ICANN presenting us with a privileged access to hear Co-founder of Internet Dr. Vint Cerf and former US President Bill Clinton in one week. http://www.wired.com/epicenter/2011/03/clinton-icann/. What an inspiration it was.
DCA was also busy speaking with registry vendors on the recent Expression of Interest (EOI) that we issued. We had overwhelming responses and profound opportunities to bring Africa the best solutions from the best providers. It appears from ICANN 40 that the internet community will have supported June 2011 for launch of new gTLDs.
Additionally, Yes2dotAfrica successfully campaigned against the recent shocking press release made by AfTLD on wanting to obtain an African Union mandate for a ".Africa" registry. It is well known within the community that African Union has already bestowed DCA with a solid endorsement early in 2009 by the Chairperson of the African Union. http://www.scribd.com/doc/31565131/African-Union-AU-Endo … Based on this, DCA embarked upon this journey a few years back, and recorded initial successes and the DCA dream and the vision of a 'New African generation' was born.
A sizable part of ICANN society has commended DCA's tireless efforts to date on getting ".africa" off the ground including applauding our capabilities for getting independent endorsements for DCA. Any other document written or efforts by our detractors to topple our original endorsement was seriously frowned upon by many .africa supporters at ICANN40, and will prove unsuccessful!
Such efforts are expected to fail woefully. DCA has never engaged in any under-handed manner to cross-over to harm any party's endorsements for a bid. This would be highly unethical, non-competitive, and meretricious, thus should not be supported by anyone.
By this open statement, we hereby seize this opportunity to continue to request the African Internet community to remain involved and supportive of the ground-breaking activities of DCA. DCA has long wanted to build a broad-based coalition of the community that we have always desired as expressed in our governance model stated in our early press release when we received our original endorsements: http://prlog.org/10497979.
We will restate what we said then, "Most of the loose-knit "African Internet agencies do not have the mandate to implement the .Africa" domain, in fact it is a direct conflict of interest with their established mandates. So there is no need to complicate the equation. Agreeing with AU's position, Ms. Bekele said, "we will welcome guidance from all African Internet agencies in our organized effort; as well as the same from our international partners". Therefore, any possibilities for collaboration and non-competitive cooperation have to be looked at, and discussed to be worked out in order to assign roles and responsibilities i.e. the rules and scope of engagement of any prospective collaboration.
DCA feels proud to be a stake-holding partner of ICANN, and looks forward to working harmoniously with ICANN and key partners to implement the .Africa registry.
DCA looks forward to continue dialog with the African community and ICANN society in the next meeting in the beautiful island of Singapore